It's been an exhausting week. but we still have our love bug.
Choco the Cat was diagnosed with diabetes earlier this year, despite being a skinny gal all her life.
An adult rescue, we're not sure of her exact age, but she's around 16 years old. We welcomed her to our family in August, 2005.
The vet recommended insulin shots twice a day, and we've been administering them.
Over the last week she suffered a couple of seizures.
The seizures were terrifying for her, and for us. Thankfully Yumi was still awake the first time it happened, heard something strange and ran down to see what was going on.
Choco was convulsing, and Yumi brought her to bed, placed her in my arms, and Choco tucked her head under my chin, and clenched her front paws around my neck as if to say, "Help me Daddy!"
Yumi quickly prepared and administered a sugar solution, and Choco came back from the brink.
She was at the vet's all of the following day on an IV. She's come back a bit, is eating and drinking.
We are struggling with quality of life issues, but as long as she's happy cuddling, still eating, drinking, and eliminating, and not having more seizures, we'll give her the best care and attention possible.
She's having a blissful cuddle with Mommy as I write this 
.
Damn we love her.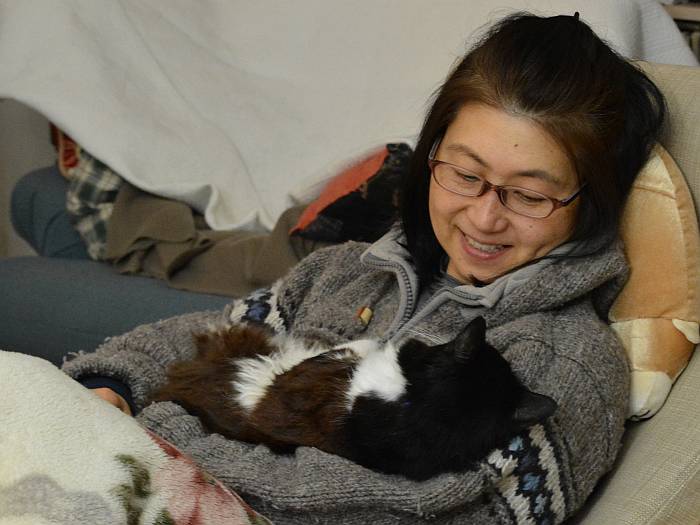 Relaxed in Yumi's arms.
UPDATE: 10/20
Choco and I just watched an entire football game like this. I'm going to need a shoulder transplant. . .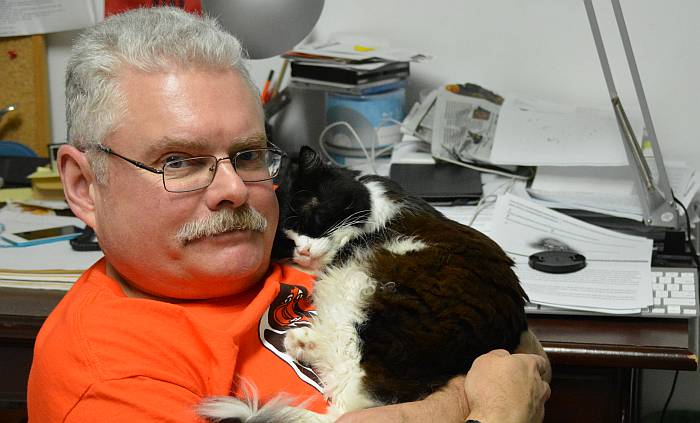 At her request I had the sound turned down so low that I could barely hear the game.
There was also a ban on backseat quarterbacking, general yelling, and jumping up and down ;-).