Choco the Cat had her annual checkup and vaccination today. Here I've just scooped her up and am heading for her carrier. She knows what's coming and gives me a clingy "Daddy don't put me in there" wriggle.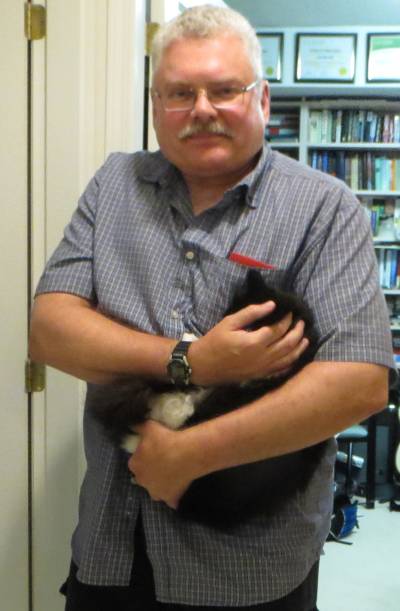 Choco was a Burnaby, BC, SPCA adult female rescue when we got her on August 12, 2005. Wow, that means it's exactly nine years to the day since she stole our hearts : -). At the time, they thought she was about three  years old, so she's around 12 now, putting her at the human equivalent of around 64-65.
So the vet greeted her with a cheerful "she's a senior citizen now!"
She's still a wonderfully bouncy, active cat, though. Drinks lots of water, eats well, and in nine years of annual checkups, her weight has never varied by more than 1/2 a pound from around 7.5 pounds.
She looks bigger, but most of it is incredibly soft  fur that she's always kept impeccably clean and smelling wonderful. She's had only one bath in her life with us, the day we brought her home from the pound, because in her initial stress she'd soiled herself.
She's an indoor cat, only goes out on a harness for short stints of eating grass. She's always been a bit afraid of the outdoors, and has never wanted to explore too far. We've always spent lots of time playing with her, so she can happily burn energy.
There are lots of photos of Choco and other pets on my old blog in the pets category.